| | | |
| --- | --- | --- |
| | | About Us |
"CB Supplies is unique – with high fill rates, fast turn-around and a very large selection of products. They have gained a solid reputation as a reliable vendor in our industry."
Currently we distribute our products from facilities in Vancouver, British Columbia, Toronto, Ontario, Montreal, Quebec and Calgary, Alberta.
To view our regional branch locations, click here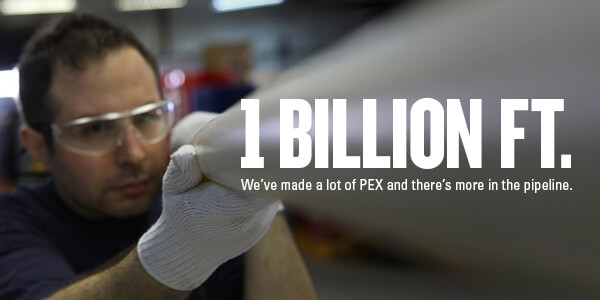 CB Supplies – a Manufacturer and a Master Distributor
CB Supplies Ltd. has two arms; one as a manufacturer and the other as a master distributor. As a manufacturer, we are committed to making the highest quality, most dependable products for the plumbing and heating industry.
At CB Supplies, we manufacture:
Potable PEX and PE-RT tubing for potable plumbing systems
Radiant PEX and PE-RT tubing for in-floor heating and snow melt systems
Water service pipe
Poly-alloy PEX insert fittings
We take great pride in our products and our manufacturing capabilities. All of our products are tested to the highest standards, both internally and to meet all applicable third-party certifications. This ensures that our customers can feel confident that our products will pass the most important test: the test of time.
As a Master Distributor, we offer a vast array of products to complement our manufactured items, spanning across the plumbing and heating, HVACR, pump and waterwell, pool and spa, and filtration and irrigation markets. This expansive selection allows wholesalers to bundle many different products together on one order, greatly reducing the costs they can incur
We constantly review our product mix to stay on top of the market trends and ahead of the curve.
Our hydronics department offers in-house radiant design services and expertise using the latest LoopCAD design software.
Locations
With four dedicated branches across Canada (Surrey BC, Calgary AB, Mississauga ON and Bois-des-Filion QC), we maintain exceptional, local service across the country. In the United States, our plumbing and radiant pipe and fittings offering is available through our sister company, American Granby (near Syracuse NY), and through several stocking distributors.
To view our regional branch locations, click here
History
CB Supplies was founded in 1962. Its divisions have gone under many different names over the years. You may remember us as Vanguard Pipe & Fittings Ltd. or Seymour Industries. Vanguard Pipe & Fittings Ltd. started making PEX pipe in Burnaby, BC in 1999. It was a joint venture between Vanguard Piping Systems Inc. in the United States and CB Supplies in Canada. Viega LLC purchased Vanguard Piping Systems in 2006, inheriting 50% of the joint venture in the process. In 2008, CB Supplies bought out Viega's share of the joint venture.
In March of 2012, CB Supplies and its related businesses, including Vanguard Pipe & Fittings Ltd., was purchased by the Lowe family, a Canadian family that also owns American Granby Inc. in NY. CB Supplies, Vanguard Pipe & Fittings Ltd. and Seymour Industries were then consolidated into one business: CB Supplies Ltd.
In August of 2012, CB Supplies became the exclusive Canadian distributor for American Granby, as the Canadian arm for American Granby was merged into CB's operations.
In 2014, the name Vanguard Pipe & Fittings Ltd. was changed to CB Supplies. This reflects that it joined the overall corporate brand and eliminates any confusion with Vanguard Piping Systems Inc. and Viega LLC.
The Big Moves
In November 2015, CB Supplies moved from three rented buildings in Burnaby, BC into a new 126,500 sq. ft., purpose built, state-of-the-art manufacturing facility in Surrey BC. This move put manufacturing, distribution and the head office under one roof, with the potential to triple our manufacturing capacity. This facility will be the cornerstone of our business for years to come.
In 2016, CB Supplies launched our VIPERT line of potable and radiant PE-RT tubing. This line of flexible and recyclable tubing was developed along with The Dow Chemical Company and has become a key product group in our mix.
In 2016 our Calgary branch was relocated across the street from a 14,000 sq. ft. unit to a new 28,000 sq. ft. warehouse. This enabled us to increase our stock levels and serve the Alberta, Saskatchewan, Manitoba and Thunder Bay, ON markets effectively.
In 2020 we moved our Mississauga, Ontario branch from a 43,000 sq. ft. warehouse to an 81,000 sq. ft. custom-built facility. This significant upgrade provides ample room to grow in Canada's largest market. This location also serves as a hub for our other warehouses.
All told, CB Supplies has made more than 1 billion feet of pipe in our history — and we're just getting started.